Getting started¶
This is a quick tutorial for users who want to get up and running with Canopy as quickly as possible. For more background and extended detail on using Canopy, see the User guide.
What is Canopy?¶
Canopy is first a solution to help go from results to a report as quickly as possible. However, Canopy goes beyond this to help manage the entire delivery process around an engagement, which is useful for managing the non-technical aspects of assessments. For additional background information on Canopy, see About Canopy.
Canopy uses a number of terms which should be familiar to most users. For a quick overview of key concepts in Canopy, see Key concepts.
What's required to go from zero to report?¶
First, some basics¶
Canopy's user interface is built around Google's Material Design concept. Our aim was to build a user interface on principles which are well thought out and, importantly, common to users. That means Canopy's user interface doesn't have to be "learnt", it should be (mostly!) obvious. Of course, Canopy is a "power user" app, and some additional knowledge is required. But for typical functions of a web application, common patterns are followed.
Logging in¶
User accounts in Canopy are linked to the user's email address. The login panel accepts the username and password: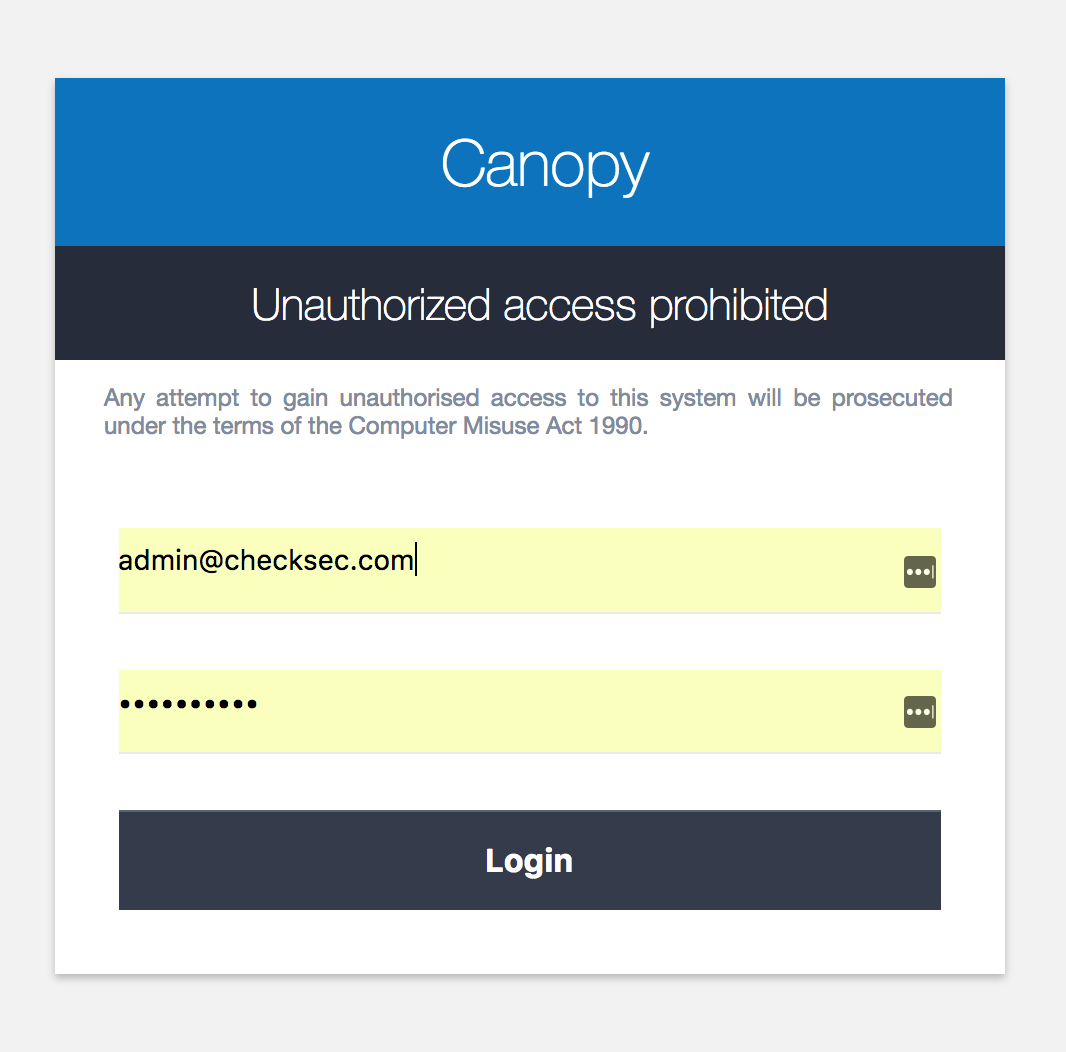 Logging out¶
In order to log out, click on the profile name and select Log out or via the main navigation menu (see below):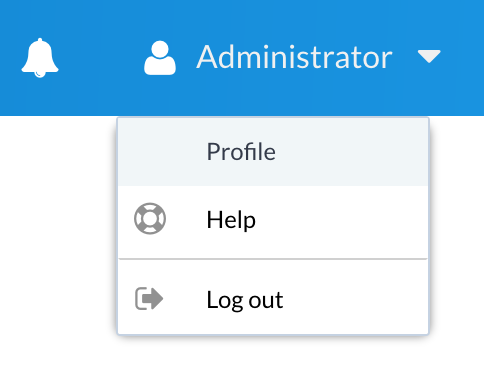 Reports start with a template¶
One of Canopy's primary uses is to generate a report. In order to generate a report, a report template is required. Without a report template, it's not possible to generate any reports from Canopy "out of the box". Creating a report template is usually something we will help you with during the on-boarding process - this is to help you get up and running with Canopy ASAP. However, for users who want to create their own templates, more detailed information is provided in Report templates.
Once a template has been added to the system, it will appear in the Templates → Reports list and as an option when creating reports. For example:

Although it is not absolutely necessary to create a report template to start working with Canopy, it is a requirement to generate a report.
Canopy's workflow¶
Everything in Canopy starts with a client. And so does our workflow. The following steps should be followed to go from a starting position - a new client - to the final deliverable - a report.
Create a client

Create a project

Add phase(s)

Add findings (manual, KB, tool sourced)

Add assets and example evidence

Clean up (grouping, removing, ignoring)

Create report

Peer Review / Quality Assure

Generate the report document
All of the steps below assume you are already logged into the system and have a suitable user account to perform them.
Bonus Step: Tracking report status¶
As a Technical Manager or an Account Manager, it is very useful to be able to keep track of reports and to ensure that any potential slippage on an approaching deadline is caught as early as possible. Canopy has the ability to track reports at their different stages (draft, PR, QA and final). This can be accessed via the Reports main menu item, which provides the following view:
Further information¶
This document provides an overview of the most typical workflow in Canopy. If you're also using the opportunities, phase scoping and statements of work functionality, see the appropriate user guide section for more detail. For further information in general on using Canopy in more detail, see the User guide. For information on setting up and administering Canopy, see the Administration guide.